I enjoyed watching the Tour de Yorkshire – recognising roads often cycled on, huge crowds, familiar climbs and quite a few local riders I have raced against at different times. People say the crowds are as big as Liege-Bastogne-Liege but the last time I watched Liege-Bastogne-Liege, I didn't see any crowds on the scale of Yorkshire.
I spent more time watching Tour de Yorkshire than the Tour de France. On Saturday I enjoyed seeing Lizzie Deignan and Anne van der Breggen fly up the Cote du Lofthouse, that was a good race. The third stage on Sunday was great because it went past my old school Bradford Grammar, up Hollins Hill and past Menston all the way to Burnsall. Yesterday, there was tremendous interest in the page on Shibden Wall – the 21% cobbled climb.
Watching tv, I thought the Peleton weren't going at full flight on Shibden Wall – perhaps not but when I saw the times on Strava I knew that looks can be deceptive – it was still pretty quick. I have ridden it once and now want to go back and have another go.
In the end, after 10,000 ft of climbing, it was a good finale to the race with Serge Pauwels hanging onto a slender advantage and taking the first win of his pro career.
I took some shots of my tv, but it doesn't do justice to some of the crowds in the road.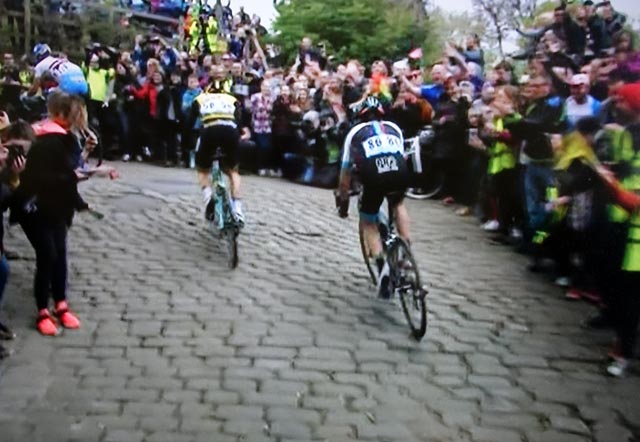 Shibden Wall
Shibden Wall
Holmfirth
Related