One thing about being a British road user is that it teaches you patience. Well, it's either you learn to be patient, or you become really quite angry and irritable. I was dropping my bike off at Beeline this morning to re-fit a power meter. It took a long time to drive the one mile during rush hour; it's so much slower than cycling. I realised now why I never drive in Oxford, unless I can avoid it. It takes considerable patience to drive the one mile down Cowley Road. The problem is that most of the roads around here were not designed for two rows of parked cars and heavy traffic.
They were designed in the halycon days of the 1930s, when everything was in black and white and people couldn't afford a motor car.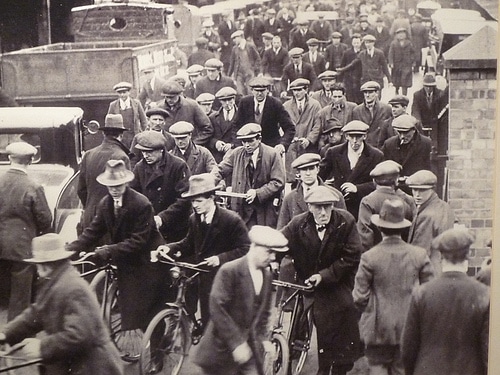 But, if you start off with the mindset of being patient and expecting it to be slow, it's much easier to retain some equanimity. If you can't enjoy the drive into town, and least at doesn't leave you agitated.
As a cyclist, you often have to be patient. You could look at the top picture and get annoyed. Why are cars taking up so much space? If the other person was on a bicycle, there would be no delay.  "Why can't you be nice and thin like me?" But, if you start thinking like that, you don't end up in a good place. A little patience goes a long way; sometimes you have to wait a few seconds for a 4WD to carry its great hulk through the road. But, that's fine, we all share the road – even Chelsea Tractors.