Axel Merckx, being the son of the legendary Eddy Merckx, always had a very good chance of making it in the world of cycling. But, there aren't too many cyclists who can say their father won Milan San Remo (7 times) whilst also owning his own company of bicycle manufacturers.
My own parents are not overwhelmed with a sporting background; I'm not sure who I got my hill climbing genes from. But my father was involved in helping get some new bicycles for Otley Cycle Club from Chevin Cycles.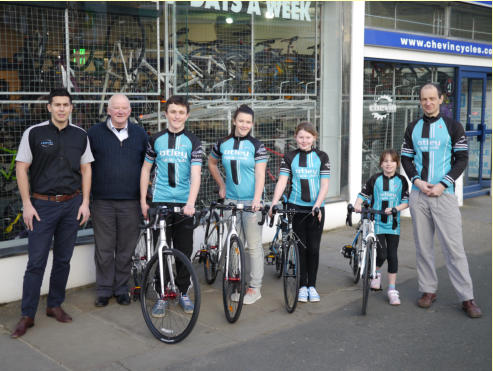 From Otley Lions website
Otley Cycle club, established in 1927, has over 450 members of which 180 are under 16.  Otley Cycle Club are planning to widen their range of cycling activity and to encourage more local youngsters into cycle sport. To further Otley Cycle Club's investment in youth they were hoping to develop their capacity in cyclo-cross racing. This is a rapidly expanding sport with events taking place in fields, school playing fields and local parks, again it requires a specialist bike. The youth section is looking to have a fleet of four cyclo-cross bikes for under 16 year olds.

These will be hired to club members to encourage them to participate in this exciting off road sport. This loan system saves parents having to fork out for a new bike for this special activity.

The Otley Lions your 'local service' and fund raising organisation which has been working with the Otley & District community and Sainsbury's to help local charities and good causes. As part of the Lions commitment to youth and organisations that help youngsters Otley Lions have funded the purchase of 4 cyclo-cross bikes for Otley Cycle club. These bikes will be used by 6-14 year olds. "This is really excellent news and on behalf of the club I would like to thank the Lions for their generous approach to this. I am sure it will be an excellent opportunity for the club to develop Cyclo-Cross and support the enthusiasm of the young riders who are keen to become involved in this sport" said Gareth Frith of Oltey Cycling Club
To keep everything local Otley Lions went to Chevin Cycles on the recommendation of cycling club member Ian Cullen. As a group of top cycle shops in Yorkshire Chevin Cycles actively support and sponsor the club and have provided the Lions and Otley cycling club with bikes at 'cost' price. Voted Number One UK Independent Bike Store 2014, Chevin Cycles has stores in Otley, Harrogate and Skipton.
Related
See: traditional British Club Run for the role Otley CC played in my own cycling beginnings.