The 2007 national hill climb championship was held at Cheddar Gorge in Somerset, just south of Bristol. It was quite a damp day, with many riders contending with rain. The long climb was closed to traffic and the start was just after a big car park and before the steep section.
The first part of Cheddar Gorge is quite steep (up to 17%) but then the gradient declines and is a long drag to the finish. James Dobbin, the defending champion from 2006 was in great form and successfully retained his title. The first woman was Caroline Kloiber (Chirio Foron D'Asolo) 8.00.3
Also of note were two very young juniors
U13 Hugh Carthy (Science in Sport) 8.40.8
U14 James Knox (Kent Valley RC) 8.17.8
Second place was David Clark, who just missed out for the second year running. Matt Clinton just pipped fives times champion Jim Henderson to third place
I finished 7th in a time of 7.14, just 6 seconds behind 3rd place.
Top 10
1 James Dobbin Arctic Shorter Rochford RT – 06:51.5
2 David Clarke Blue Sky Cycles – 06:57.6
3 Matt Clinton mikevaughaun.co.uk – 07:08.5
4 Jim Henderson Southport CC – 07:10.3
5 Geoffrey Beetham Retrobike.co.uk – 07:11.7
6 Danny Axford Arctic Shorter Rochford RT – 07:12.6
7 Tejvan Pettinger Sri Chinmoy CT – 07:14.4
8 Ian Stott Blackburn & Dist. CTC – 07:23.6
9 Adam Pinder Blackburn & Dist. CTC – 07:27.1
10 Ben Pochee Bike & Run London
Excellent event, with good organisation and support.
From results book
Women top 10

Caroline Kloiber – Chirio Foron D'Asolo 8.00.3
Lynn Hamel – The Greenroomgroup.com – 8.23.9
Ann Bowditch – Science in Sport – 8.38
Claire Thomas – Edinburgh Road Club – 9.16
Anne Buckley – Yorkshire RC – 9.17
Kim Hurst – Agiskoviner – 9.17
Avril Swan – MI Racing – 9.28
Jill Postlethwaite – Welland Valley CC – 9.32
Leigh Harvey – North Road CC – 10.07
Alexandra Zebedee – MI Racing – 10.33
My Race
I hadn't done much racing in 2007, just the odd hill climb. I had been injured earlier in the year, But, I did some training for the national and was quite pleased to finish 7th place. In retrospect, it was a climb that suited me quite well and it was a shame I wasn't in better shape.
Many Thanks to Rich Owens for photos from the race.
Team.- Arctic Shorter Rochford (Dobbin, Axford, Peter Bissell 7-37.4) 21-41.5. Women.- Caroline Kloiber (Chirio Foron D'Asolo) 8-00.3. Juniors – Adam Pinder (Blackburn & Dist CTC) 7-27.1
Results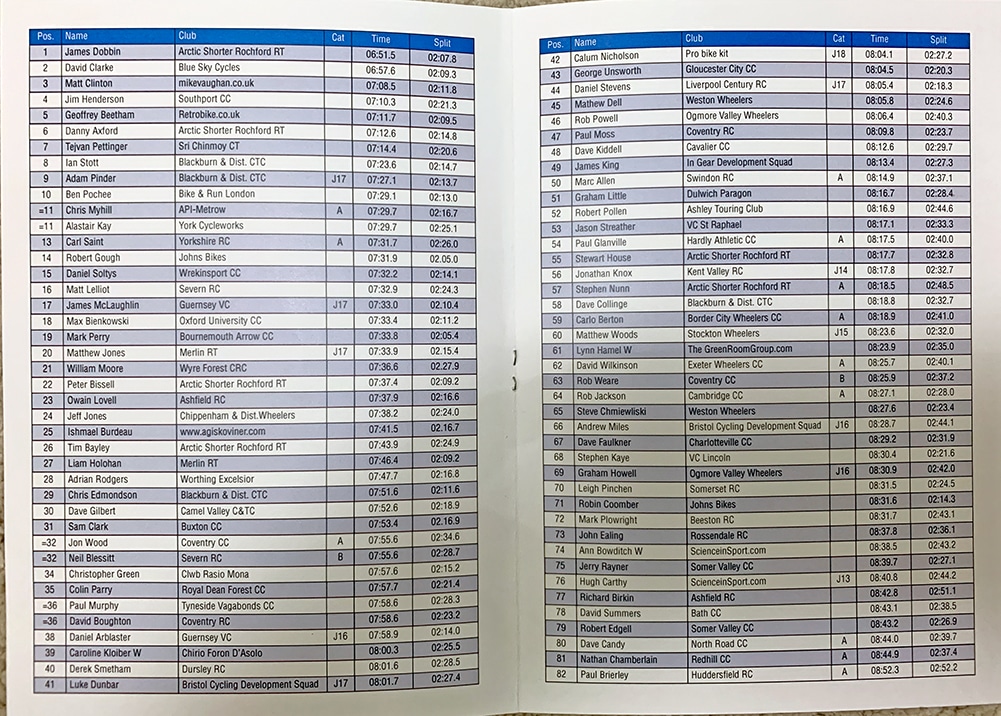 Related