Like most other people the past 3-4 months have been very routine. I have only really left the house to go to the supermarket or cycle rides around the well-known roads of Oxfordshire.  It has been a bit of monastic experience, which in many ways suits me fine. But, when you get stuck in the same old routines, you miss out on more spontaneous experiences which are good to refresh the spirits.
Yesterday, I decided it was OK to head north and see my parents for the first time since January. As much as it is good to see the parents, travelling up north often as an ulterior motive to do some cycling there too. This time I thought I would do something different and rather than just the long slog up the M1 would stop off in Matlock and cycle up some hills I had always wanted to do.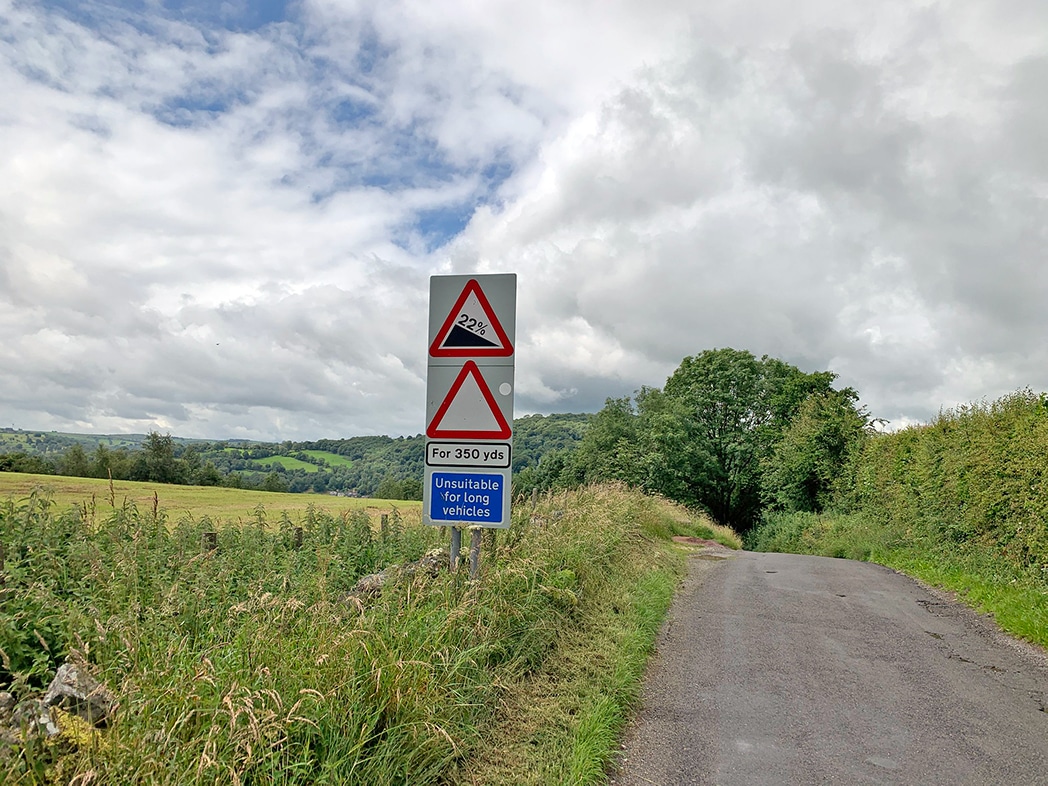 Top of the bucket list was "Riber Hill" I have been meaning to ride Matlock CC Riber hill climb event for many years, but never managed it. It was always on a packed weekend with many other hill climb events. Riber is a great hill climb event and in recent years the course record has been broken quite a few times by some of the top new generation of hill climbers. Riber was the also venue for the national hill climb championship in 1986 when the mercurial Daryl Webster won in a time of 4.48. In 1986, they used the full Riber course – starting closer to Matlock than current hill climb course. The event created some iconic photos – with riders forcing themselves up the steep twisting road, surrounded by large, enthusiastic crowds.
Yesterday, the road was quite quiet, which is a good job, as you wouldn't want to meet a van coming down when you're struggling up Riber. The first section off the A615 takes you through the village of Starkholmes and along Starkholmes Road. There are a couple of ramps and a section of false flat, nothing special, but as you turn left onto Riber Road, the climb gets very interesting and takes on a different complexion.
Riber road is sufficiently steep and twisty to look intimidating. There are gradient signs giving a max gradient of 22%, which sounds very accurate, it is probably steeper if you took the direct line.  There is no let up in the gradient as you swing left, right, left and then lose track of where you are. The first hairpin was so sharp, I couldn't maintain full momentum and had to accelerate out of the corner. It is a real technical climb. I kept a fairly decent pace until the last section where I was running out of gas and went down a gear rather than push into the unknown. I think in 100 Climbs, Simon Warren said it was his favourite climb, I can understand why. I like the full version even more than shorter hill climb course. The first section through Starkholmes is testing but is really lulling you into a false sense of security before the main action ahead of you. I love climbs that get harder and harder the more you ride up them. Riber certainly does that.
Bank Road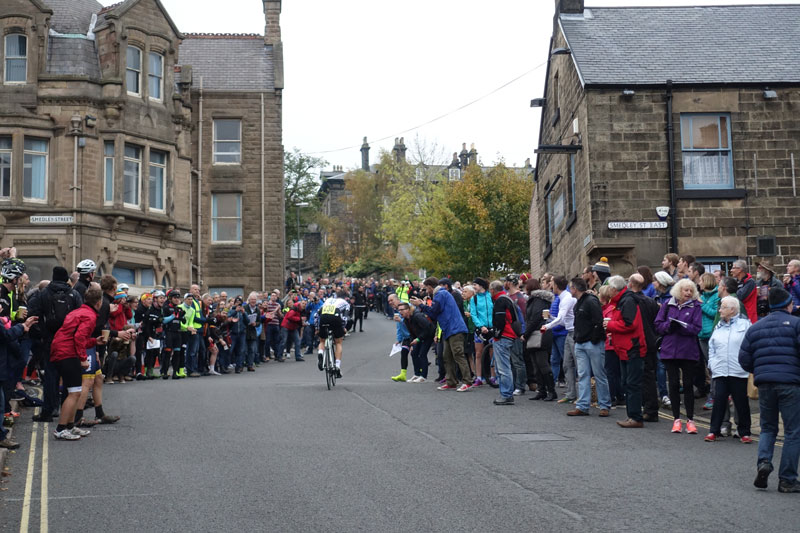 After Riber, the next climb is within shouting distance. Bank Road, a short 1 km sprint from right in the heart of Matlock town centre. I have only ever ridden this climb in a national championship both in 2008 and 2016. I have never ridden it in training (I guessed rightly that there was no point in trying to perfect my pacing on a climb that was too short for my preference). It was slightly weird to be riding up Bank road without banks of spectators to roar you on.
The only thing I saw at the roadside was signs for Covid testing station and signs saying the barber was only by appointment. Welcome to 2020. The first half of the climb I had good pace, but then faded towards the top as the legs were still feeling Riber. Bank Road is really a climb to do when you are as fresh as possible. Still, it was nice to visit Matlock again.
After that, I went to Slack hill – only a few miles away.
After the drama of Riber and Bank Road, Slack Hill is not in the same league. It is fairly straight and unrelenting 14% gradient. It is a fairly busy A road so you get a little help from passing traffic. The best thing about the climb is that you can pick up speed coming down from Kestleridge and you can start the climb with a good 30mph on the bike. However, this speed soon evaporates very fast and you are left pushing up the hill. I'm sure I would feel more inclined to the hill if I didn't have a headwind and tired legs, but it was still a decent pace. Near the top, I also saw a sign to Beeley Moor. Are there no end to good climbs in this part of the world?
In an ideal world, a cycling visit to Matlock would involve six hours, 100 miles and 20+ climbs, but although I am getting in better shape, I still get aches and pains from the troublesome hip and back. That is why I limited my ride to a measly 12 miles. But what a 12 miles it was. I got a real buzz from racing up Riber and Bank Road. Although I'm disappointed not to make a full recovery, the rest of the body seems in quite good shape and despite limited training (by my standards of training) I can still get up hills pretty well.
In the end, it took all day to get from Oxford to Menston, but it was a really good experience to do something different and get out of the daily routine. It was really liberating to be at the top of a steep hill.
I enjoyed everything about it. Driving through the Peak District, the view from the tops of hills, but mostly the exhilaration of racing up Riber bends.