I only got a working power meter in 2014. Traditionally, the way I test fitness is to race up the A40 climb towards Stokenchurch. 1.5 miles at 5%. It is a rough guide to 5 minute power and form.  I have times from this climb going back to 2005. In pre-Strava days, (2011) I did a best of 4.45 from the vague-ish points I measured.
Last year, I did a best of 4.55 in April (390 watts / Quark) This was the first test of the year. I did 5.25 (384 watts / Stages) which is pretty good for late January. After those five minutes of excitement, it was a more sedate ride for the rest of the day. Still I tried to keep up a good pace until about 60 miles, when I knocked it off a little.
It was pretty cold – 37 degrees, but I saw a lot of cyclists going in the other direction, and overtook a few riders from Aylesbury CC out on a club ride. After Stokenchurch I headed towards Marlow, around a few roads, I haven't been on before. One new road was pretty waterlogged, but I kept going as it wasn't as bad as it looks in this picture.
Muddy lane
From Marlow, I headed towards West Wycombe – a place I often visit on training rides, there are good long climbs around this part of the world, it is also quite good scenery.
West Wycombe.
I finished off the ride by visiting Brill and the windmill on the hill. By the time of Brill, the temperature was dropping, and I started to head straight home into a headwind, and was rather relieved to get out of the cold.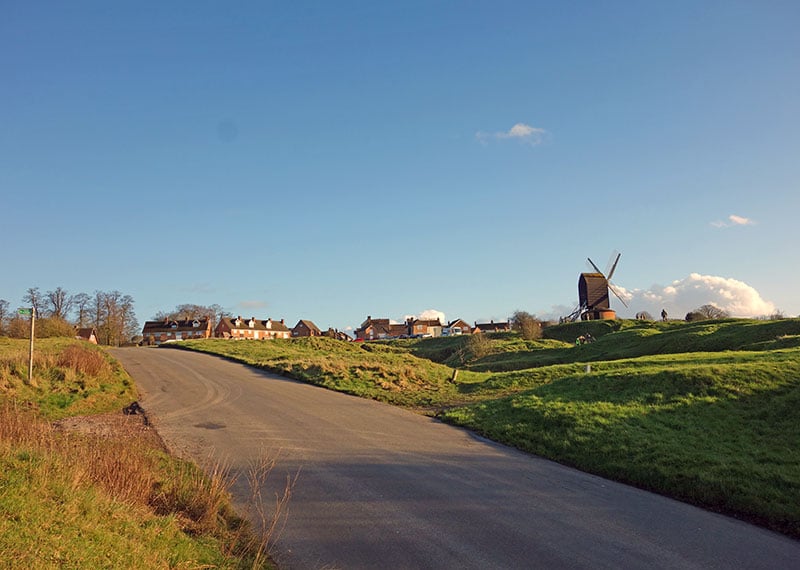 Brill
73 miles, 4 hours, 17.6mph. 1,200m of climb