Fortunately or unfortunately, I've spent a lot of money and time researching lightweight saddles. My excuse is that I'm a hill climber – where every gram can make a difference. My weight weenie obsession began after 2010 national hill climb, where I missed out on podium by less than one second. I've been through quite a few lightweight saddles (and would be open to offers to buy old ones) On the plus side I only weigh 61 kg, so I don't have to worry about breaking a saddle with excess weight.
It is worth bearing in mind that the lightest saddle is not necessarily the best saddle. Other factors that are important include comfort, power transfer and ability to hold position.
AX-Lightness saddle
My current choice of saddle is the AX Lightness – Sprint. which weighs 69 grams.
The front of the saddle is very narrow, which helps aerodynamics
AX Lightness – Sprint 69 grams (link)
It is a real work of art the AX Lightness saddle, it looks great. For example the under carriage rails are seamlessly moulded into the saddle.
What's the AX-Lightness saddle like to ride?
I've ridden it in training and hill climbs and I don't mind the smooth surface. There is no padding to speak of, but a bit of flex to prevent it being too unforgiving.
Bear in mind AX Lightness offer different models of saddles, which weigh a little more, but also give more comfort, e.g. Endurance model at 76 grams or Leaf at 85 grams
See full review of AX lightness saddles here
I bought this Selle Italia CX Zero a while back because it was advertised at 81 grams. However, when I put on my electronic scales it came in at 111 grams (advertised weight 81 grams) – £325. I sent it back because I wanted to get something lighter. There was no point paying £325 for something over 110 grams.
I haven't seen this on sale recently. Selle best-selling light saddle at the moment is Selle Italia SLR Tekno Carbon Saddle. I haven't been able to confirm the manufacturers weight of 95 gram
Tune Concorde
I've had a Tune Concorde. Firstly, it weighs at just 73 grams
However, I had to send it back because its unorthodox saddle rails didn't fit my Trek Madone
Tune Komm Vor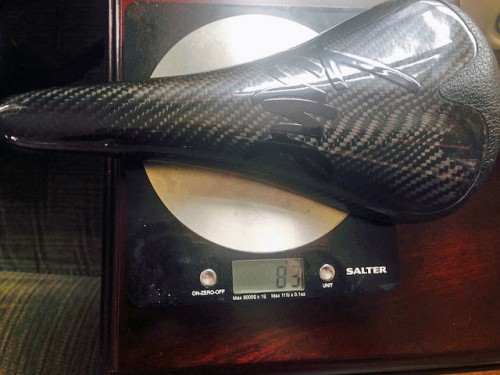 In replacement for the Concorde I got the Komm Vor. It is quite a smooth saddle and quite flexible. I was worried that there was too much flex which might interfere with power transfer. That is reason why I got AX lightness saddle, but there really isn't much difference between the two.
I've used it for a few years and it's not bad. Tune Komm Vor plus is slightly lighter by getting rid of the fabric on the outside.
I did this to my own Tune Komm Vor in marginal gains for hill climb bike. Plus, it is only £200!
Tune Speed Needle Alcantara
Tune Speed Needle Alcantara (87 grams claimed) Tune Speed Euro 199
Selle Italia SLR C64
(88grams claimed) at Wiggle – though discontinued.
It is one of few sub 100 gram saddles that doesn't come with a rider weight limit. It has a thin layer of padding (weighing a mere 5 grams)
It is quite long at 270mm from saddle tip to back, this gives a greater range of comfortable positions.
It is fine for 1 hour criteriums and 1 hour time trials. For races longer than the hour, you either need a tolerance to pain or hard posterior!
Price: £300.00
Expensive and definitely has a rider weight limit. But, the lightest custom saddle. at only 47 grams!
Light saddle comfortable for Time Trial Bike
When doing time trials I find a cut out in saddle makes it very comfortable. Initially I got an Adamo which weighs close to 300grams. In researching an alternative I came across these saddles – Dash TT
This is a real minimalist TT saddle, and weighs only 77grams. It looks more comfortable than it looks.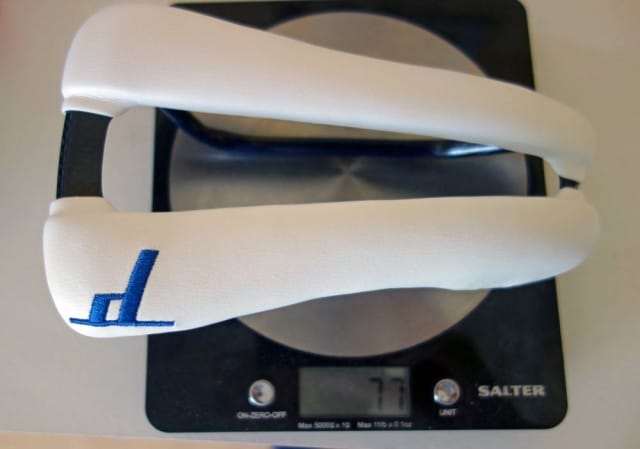 I got a Dash Strike  (115 grams) for more saddle for climbing in the seated position.
AX Lightness Phoenix
The AX Lightness Phoenix saddle claims to be 62grams (AX lightness are usually good about advertised weight matching reality
Length: 260 mm
Width: 125 mm
Height: 61 mm
Seat: 100% Carbon and Kevlar Pre-preg Rowings
Rails: 100% Carbon composite
Adjustment range: 75mm
Special features: 1 piece composite monocoque.
Saddle and Seatpost combination
AX lightness saddle and seatpost have a combination of only 108grams.  But, no good for my Trek Madonne with custom seat post.
Lightest Comfortable Saddle
It is one thing to get the lightest saddle (good for short hill climbs). But, if you're going to be spending all day on the saddle, 100 grams becomes less important than keeping comfortable and not wanting to crawl off the bike because of extreme discomfort. I can recommend the Selle Italia SLR at 150 grams. It is actually more comfortable than the Bontrager saddle at 180grams.
Related