In a rush of blood I entered my first race of season this weekend. It's only a few weeks since getting back on bike, but I still felt keen to get out on the race bike and get back in the rhythm of racing. The Gil Jessop memorial – 13.56 mile TT was promoted by the Kingston Wheelers near Ripley, Surrey, and involves two laps around East Clandon and West Horsley. It begins with a steady climb up 'Hungry hill' a 200 ft ascent at a gradient of nothing more than 4-5%. Traditionalists in the 'Hill Climb Union' may take issue with the title hilly TT – it's certainly not the most mountainous time trial. But, on the day, with a stiff S.W wind it was plenty hard enough – I certainly didn't hear anyone complaining there weren't a few more hills. I did see quite a few  riders getting punctures, probably a consequence of all the debris on the road.
A bigger test than the gradient was the pools of water streaming off the Surrey hills. The south of England is currently seeing rain and flooding of Biblical proportions. The organisers had a difficult dilemma about whether to proceed with event, but after pointing out the hazards of the course they said it would be go ahead.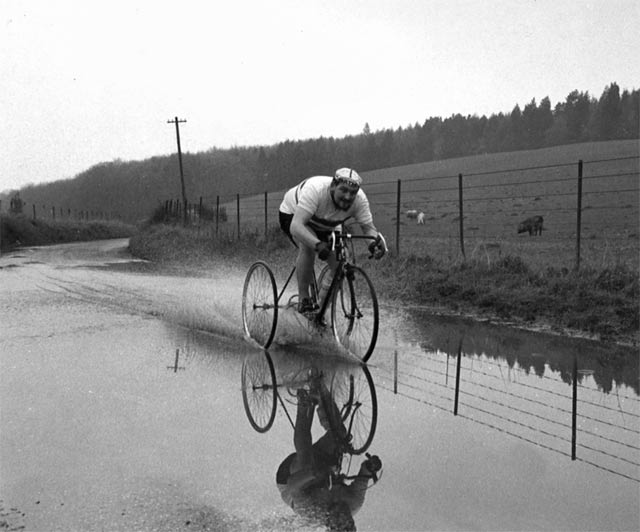 Unusually, I woke at 4am, rattled by the gusts of wind sweeping around Oxford. At that point, I was pretty tempted to turn off the alarm clock and do some thing more comfortable on this supposed day of rest  – like a rollers session in the conservatory. At 4am there seemed many good reasons not to do a cold, wet hilly time trial in early Feb – especially when I'm still trying to get back to form. I could think of very few reasons to go, but fortunately or unfortunately – I wasn't in the mood for thinking so just got in the car and drove to Ripley.
First impressions of the circuit were wet, cold and windy. Reminded me a bit of my last race up the Stang. I was grateful to be able to warm up on the rollers. At least I didn't freeze with my back to wind.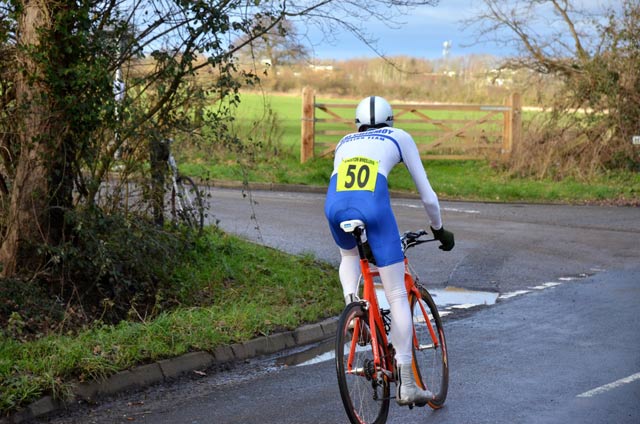 I didn't ride to my power meter. But, looking at data later, I seemed to have paced it reasonably well. Average power for the ride said 305 Watts.
On some sections of the course, there was heavy flooding – so on the first lap, I took most bends and corners with considerable circumspection. By the second lap, my legs were tired, but more mentally confident about the course, so wasn't quite such a tourist going around the bends. Though the second time through the large puddle, I probably arrived a little too fast, and felt the water act as a mini brake on the momentum of the TT bike.
(As they would say on Childrens' BBC – don't try this at home. You have to be very careful cycling through puddles, when you don't know the potholes that might exist below.)
The course record was 30.50, set by Wouter Sybrandy (26.4mph) I was pleased with my time of 31.50ish. (25.6mph) But, Robert Sharland of Kingston Wheelers went even faster with a very good time of 31.24 ish. If Rob keeps improving, he will be one to watch in the time trials this year. I haven't seen the full results yet.
Thanks to all the (many) Kingston Wheelers marshals and timekeepers who stood by all the large puddles on the road to help make event go ahead. It would have been easy to cancel. But, I'm kind of glad to get the first 13 miles racing out of the way.
I have two weeks of training before my next race – North Road Hardriders, which I believe the Hill Climb Union say is compulsory for any hill climber to do at some time in your career.
Thanks to Thomas Jenkins of the Kingston Wheelers for photos