When I use a water bottle on the aerobars, I can't use the standard Garmin mount, so looked for alternatives which can be fixed to the bike.
K-Edge TT mount
The K Edge TT model has a locking mechanism underneath. This is suitable for awkward positions – you don't have to twist the Garmin, put you can twist a locking mechanism underneath the Garmin mount instead so it can work in tight areas with little room for manoeuvre. This was good for placing the Garmin between the tribar extensions. It is quite adjustable.
A nice and smooth looking piece of kit. Placed in this position, it is quite easy to see when riding in aero position.
Still for what you get, it is a little expensive. I'm sure there is a premium on anything designed for timetrial bikes – a premium due to smaller economies of scale and perhaps the average tester is more used to spending money on small bits of kit.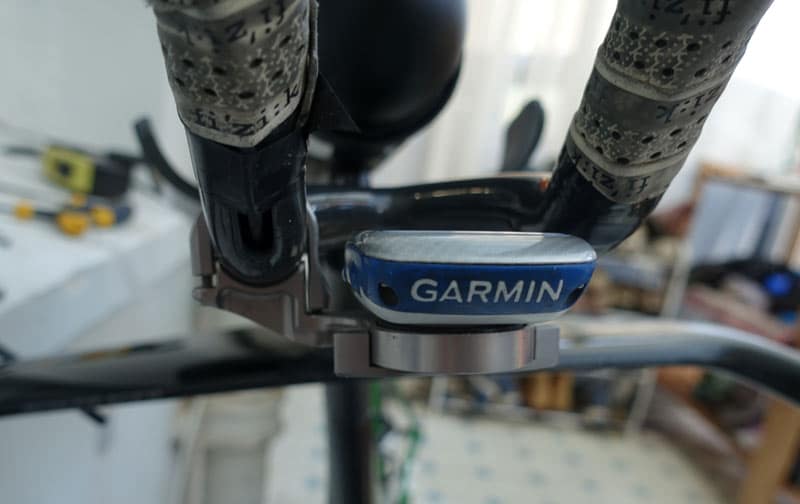 However, I was worried that with aerobars slightly tilted upwards it was hitting the wind more than I would like, so I looked for an alternative which was more 'aero'
I found this – a Speedfil Garmin Adapter Ring , which is a bit of hack, but actually was quite secure. It is designed for use with a Speedfill Aero bottle, but works very well on my existing Profile bottle.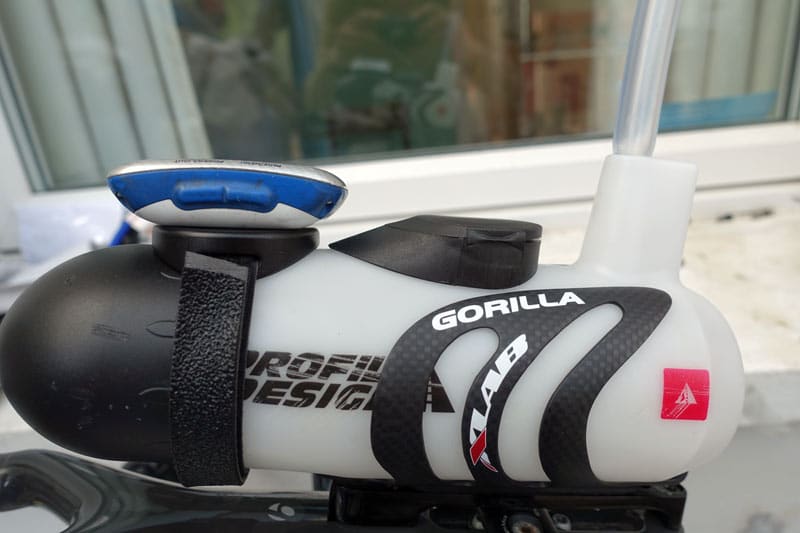 The design is simple, it is just velcro which wraps around the bottle. The design of the Profile Design bottle with end black cap stops the strap slipping off the front. It is very secure and doesn't budge. One drawback is that the outer strap is glued on very weakly and it came off after 1 or 2 rides, but it is mainly cosmetic so doesn't matter.
Empty Garmin mount
Not bad looking
Another downside is that the Garmin attached to the water bottle is harder to see when riding, than the previous position further out on the aerobars.
Garmin Speedfill aero mount at Amazon only £8.48 so quite cheap and easy alternative. Amazingly, I bought last week and it is already out of stock at both Amazon and Wiggle. It's quite common for specific TT equipment to quickly go out of stock. I had same experience when wanting to re-order a tubular yesterday, I have been using for a long time.
Aero options for road bikes
If you have an ordinary road bike, you have much more alternatives such as the standard
Garmin edge mount at Wiggle
or the Garmin Out Front Mount
Weight: 26g
Compatible devices: Edge 200, 500, 510, 800, 810
£24.99 is expensive given it is a piece of plastic, however, it is still well made and solid. There are cheaper options.
Garmin Front handlebar mount – £29.99 at Evans cycles
Bike from ECCA 100
When preparing for ECCA 100, I google ECCA 100 to find my own blog posts on previous entries. I wish I had taken a photo of bike before race, so I could see how I prepared the bike.  This is a relatively good set up with two bottle one on aerobars and one rear-mounted. No bottles on the bike. Not the best photo, but then it was just before the start, and I did make the start with only 5 seconds to go, so a good job I didn't take an extra 10 seconds to frame the photo and close the boot of the car…
The Trek Speed Concept is really useful for the Draft box and container on top of top tube, these two really make it much easier to ride a 100 mile unsupported, you can store both gels and empty wrappers without too much of an aerocost.