I took a day off training to watch the fifth stage of the Tour de France, which featured the cobbles of Paris Roubaix. One thing about the classics is they always make fascinating viewing – even if as a rider I'm glad I don't ride them. One thing you could absolute guarantee about the day – it wasn't going to be a sprint finish with Marcel Kittel taking another stage.
The strange thing about watching the stage is that you just had one of those feelings it wasn't going to be Froome's day. He just didn't look comfortable on the bike and with riders going down like a ten pin bowling park, you just had that gut feeling Froome was not going to make it.
It was an exciting stage (though with a macabre subtext, there is part of you feeling slightly guilty for 'enjoying' watching a spectacle which is essentially made by the danger and so many crashes.An interesting stage, but a shame for the long-term of the tour when defending champion goes out. I was looking forward to a Contador / Froome duel in the mountains. But, that's cycling and no-one is indispensable.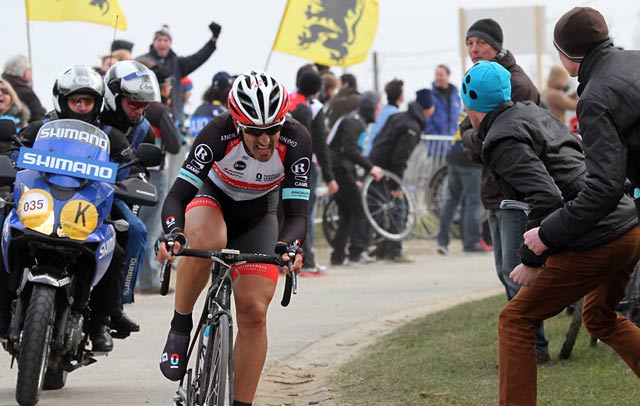 A few weeks ago, Nibali looked on poor form, struggling to keep up with Froome and Contador – who would have imagined the out of form climber, dropping Cancellara and Sagan on wet cobbles? It was an impressive display and leaves mixed emotions about the desirability of cobbles in the tour. It was definitely an awesome ride by the guys at the front of the race.
The sad thing for Froome is that once the riders got to the cobbles it actually seemed safer, with the peleton smashed to small groups, the frequency of crashes diminished. It was just a crazy 15 minutes before the cobbles where riders were going down like no tomorrow. But, it seems hard enough to ride on cobbles when fully fit, with dodgy wrists he may have not made it anyway. The irony is that it was probably the crash from yesterday on a flat wide road in glorious sunshine which was the biggest factor in causing him to retire.
The Tour in Britain was a fantastic success, but British riders are having their worse tour for many years. Hopefully Geraint Thomas got all his bad luck earlier in the season – he's a strong rider as he showed yesterday, helping Porte catch up some time. The Tour in Britain was a great success despite Cavendish falling – that was a nice thing about Le Tour in Yorkshire – it was great – independent of home success. But, we could sorely do with a British stage victory – if only to give us something to talk about other than – why didn't we pick Bradley Wiggins?
Thankfully, it's a boring flat stage today, so no excuses for not going out training. The national 100 is suddenly looming on the horizon – temporarily lost in the fog of Tour de France excitement.
Related