I've heard on the best authority – no less than Sir Bradley Wiggins  – that the key to being the best cyclist is to make sure you do a five hours training season every Christmas Day.
Whilst all your rivals are staying indoors eating mince pies and stuffing their faces with turkey, and sausages wrapped in bacon – you can be out there getting in the base miles. Never forget – that will be 87 rainy and windy miles that you're competitors have lost to you – forever. Physical gain marginal – psychological advantage – incalculable.
I have also heard this Christmas Day theory previously expounded by no less a cyclist than- a certain Mr Lance Armstrong – who to his name holds the impressive palmeres of – 3rd Overall in the Tour of Sweden (1993) and 1996 winner of La Flèche Wallonne.
For those who may have forgotten who Lance Armstrong is – he has apparently taken up golf because he's attracted by golf's code of honour and sportsmanship. The ironic thing is that apparently in the UK – golf membership is in free fall because all the former golfers are taking up cycling. Cycling is the new golf according to the BBC.
MAMILs and WAMILS will one day rule the world – except not quite, because a good MAMIL will not be out cycling on Christmas Day, he will be too busy unwrapping his – Rapha festive neoprene lined, vintage cycling, limited edition, cotton cap.  No need to go cycling, as long as you have the gear.
Anyway, back to my Christmas Day, six and a half hour, smash it up all the hills in the Yorkshire Dales. I hope there's a super strong tailwind on Christmas – because it will make my up coming seven hour training session even more epic, and into the bargain I'll be able to pick up a hat full of KOM segments – if that isn't the Christmas spirit I don't know what is. And one thing I've learnt from 15 years of cycling – it's never too early to start training for the British hill climb season in October.
Today, I didn't go out at all, and I feel suitably guilty, depressed and convinced of a useless up-coming season. I spent all day waiting for the weather forecast of 6mm of rain to appear. It never did. I was lulled in to a false sense of security that the weather would be too bad for cycling today. I couldn't work out if I was happy – that the weather wasn't quite as miserable it was supposed to be. Instead I went to Bradford – (which isn't necessarily the most obvious cure for when you feel at a lost end.)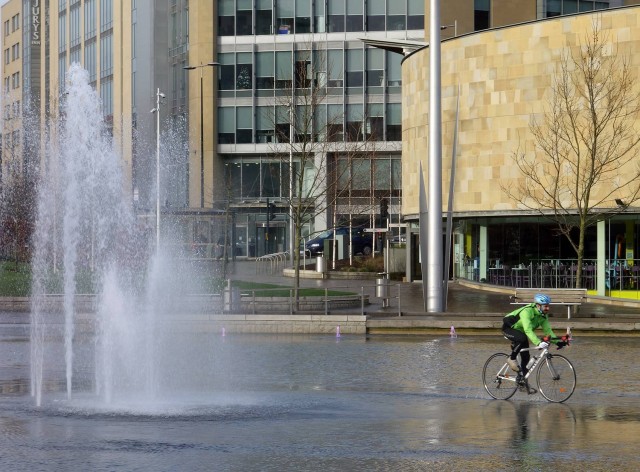 But, even Bradford has the capacity to surprise.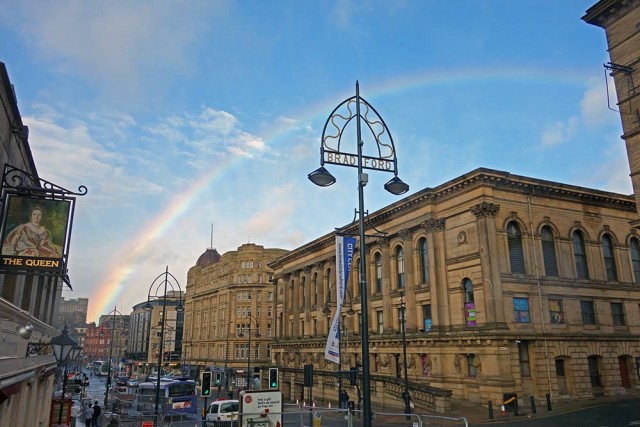 But, it doesn't matter. All is not lost. I may have missed out on training today, but I've secretly negotiated to delay Christmas until the rest phase of my current training cycle. I am now officially free to lose myself on Christmas Day – cycling for eight hours on desolated roads – plus a couple of hours warm up on the rollers (before my 6am Christmas dinner of rolled oats and unsweetened soya milk). It will be a great ride – accompanied only by that fresh Yorkshire wind blowing in the face, and that warm, glowing sense of smugness – that no-one else in the world will be doing a 12 hour time trial on Christmas Day!
Have a very merry Christmas! – Think of me whilst eating Christmas dinner – I will probably be on my rollers doing a bit of level 3. Let's be honest – it's got to be better than two hours of a Downton Abbey Christmas Special!
I'm off to Croatia on the 26th, which is a good job because it will probably take me 2 weeks to recover from my 237 mile Christmas Day jaunt, but if I'm not completely wasted, I may get a few miles in the former Yugoslavia. Let's hope there's no crazy Portuguese dogs going on on holiday.
(BTW:  My observations on Rapha  reminds me – Traumfahrrad has re-found his password and has restarted his blog.)
Related