Saturday 28th June 2014 was the BDCA 50 mile TT. Matt Bottrill (Drag 2 Zero) set a new 50 mile competition record of 1.34.43 on A50/6. Average speed of 31.67 mph (50.97 km/h)
I was third in a pb of 1.39.36 (30.1 mph). Paula Mosely was fastest lady in 1:51:47. Female comp record is Julia Saw (1.46.46)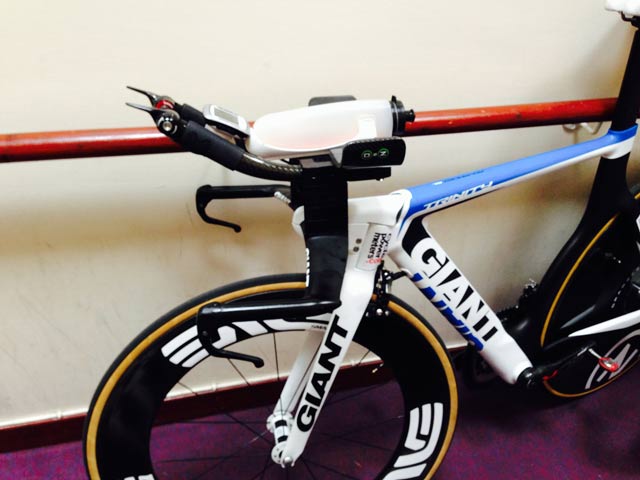 Matt Bottril's bike with lots of aero stuff.
Matt Bottril and BTTC
After finishing 2nd in the BTTC 2013 champs behind Alex Dowsett, Bottrill never hid the fact his main goal of the season was the BTTC champs in Wales last Thursday. Despite being on tremendous form and being well prepared, Bottrill was perhaps a little disappointed to finish 6th, 4 minutes behind a flying Bradley Wiggins. (Results at Velo UK)
It's still an excellent result – there are many good pros who would struggle to finish 4 mins behind an on form Bradley Wiggins (4 minutes behind Wiggins would have been 17th in the 2012 Olympic time trial). Also a different course may have suited Bottrill more. When I spoke to Matt he was in philosophical mood, saying he made him realise how big the gap to the top pros was. Bottril said he was going up the climb in Wales at 475 watts, when Wiggins went past like a train. God knows what watts Wiggins was doing up there. (Also nice to see Wiggins regain his descending in the wet form.)
UCI rules
Given the hilly nature of the course, I was  disappointed to be engaged up in Yorkshire for the BTTC champs. I'd much rather be racing courses like the BTTC champs than dragstrips like the A50. However, hearing about the UCI mandarins and their incomprehensible 10 cm rules – which caused a lot of problems for the amateurs, did make me feel a little better for not being there. A love these 45 page UCI clarification of their rules, which makes everything as clear as mud. They say the next BTTC champs might be in Isle of Man – do I want to travel there, only to risk the UCI declaring the bike illegal?
50 mile record well deserved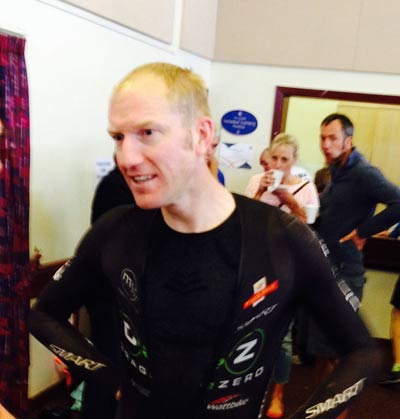 The 50 mile TT record is a great achievement for Matt Bottrill. A deserved reward for a few years of great effort and dedication.
There are some great names on the role of 50 mile TT comp record holders, not least:
Ian Cammish (1.39.52 – 1983 before tribars),
Graeme Obree (1.39.01 – 1993),
Michael Hutchinson (1.35.27 – 2008) and many more.
A 30 mph ride for 50 miles
Last year, I did a 1.41 on this course, but that included getting lost and perhaps losing a minute going wrong way. I always wondered if I could have done a 1.39 that day. There was unfinished business.
The A50 is always fast. But, today was a particularly good day. Very light wind, though a touch on the cold side (at least for skinny hill climbers) I set off at a fast speed and steady power and once you get on the dual carriageway you start flying along. The only problem is that you seem to have to come to a stop at every roundabout and then re-accelerate.
After 10 miles you start to 'climb' 'concrete mountain'. It's called concrete mountain by testers, though the hill climbers union will say any mountain you can cycle up at 29mph, isn't really a mountain. Perhaps, one summer I will forsake British dragstrips and go and ride proper mountains in the Pyrannees. But, not just yet.
There are long drags on the course, but it doesn't particularly feel like you are going up hill. It's all fast. The turn comes around 20 miles, and you go down the long drag. If anything there was a mild headwind, so not as fast as last time I rode on here, but still chance to spin away at the 56*11. At 30 miles I had 58.55 on the clock, so I knew I had a good chance of a sub 1.40. But at 30 miles, you turn off the dual carriageway for about 8 miles of single carriageway to Rocester. This road is a bit slower and has been recently chipped. There were also an extra two roundabouts before the turn. I saved my biggest effort for this leg and did over 300 watts. In the last 10 miles, I struggled to keep the same effort, with power finally starting to dip. But, there was still enough to keep average speed above 30mph and I stopped the clock in 1.39.36. A 30mph ride for 50 miles. 5 consecutive 10s of 19.54. If that sounds fast it wasn't quite as impressive as Matt Bottrill's course record of 1.34.43 which is 5 consecutive 18s. Adam Topham looks strong favourite for BBAR competition with another impressive ride, covering the 50 miles in 1.38.27
BBAR
I've got a good start to my first BBAR campaign – 30 mph for a 50, 28 mph for a 100. Just a 12 hour to grind out. The BBAR is not a competition for a specialist hill climber, but it's still fun to ride for two hours at 30mph. But, that might be it for flat dragstrips for the year – pretty soon it will be time to get hill climb bike out!
Results
| | | | | |
| --- | --- | --- | --- | --- |
| 1 | Matthew Bottrill | www.drag2zero.com | 37 | 01:34:43 |
| 2 | Adam Topham | High Wycombe CC | 45 | 01:38:27 |
| 3 | Tejvan Pettinger | Sri Chinmoy Cycling Team | 37 | 01:39:36 |
| 4 | Joel Wainman | Team Swift | 40 | 01:40:09 |
| 5 | Ian Holbrook | Stone Wheelers | 45 | 01:41:32 |
| 6 | Paul Gamlin | Northover Vets Team | 42 | 01:42:05 |
| 7 | Steve Irwin | Kingston Wheelers CC | 43 | 01:42:35 |
| 8 | John Morgan | Preston Wheelers | 37 | 01:42:57 |
| 9 | Daniel Barnett | www.drag2zero.com | 40 | 01:43:19 |
| 10 | Mark Turnbull | TORQ Performance | 41 | 01:43:21 |
| 11 | Ben McIntosh | Crewe Clarion Whs | 17 | 01:43:23 |
| 12 | Richard Spink | Bristol South CC | 37 | 01:43:24 |
| 13 | Ian Cox | North Lancs RC | 44 | 01:43:39 |
| 14 | David Ellis | Mapperley CC | 47 | 01:44:07 |
| 15 | Jon Wynn | Northover VT Rudy Project | 47 | 01:44:17 |
| 16 | David Watson | Coventry RC | 44 | 01:44:24 |
| 17 | Barry Charlton | Swinnerton Cycles | 48 | 01:44:28 |
| 18 | Billy Oliver | RST Sport/Aero-Coach | 33 | 01:44:32 |
| 19 | Neil Skellern | Team Swift | 50 | 01:45:26 |
| 20 | Jason Seabridge | Mercia CC | 40 | 01:45:57 |
| 21 | Joe Costello | Walsalll RC | 55 | 01:46:15 |
| 22 | Michael Westwell | Mapperley CC | 34 | 01:46:19 |
| 23 | Matt Stell | Ribble Valley CC | 36 | 01:46:49 |
| 24 | Scott Westwood | Walsall Roads Cycling Club | 42 | 01:46:52 |
| 25 | Dael Sidwell | Lutterworth Cycle Centre RT | 40 | 01:46:54 |
| 26 | Duncan Mullier | Harrogate Nova CC | 44 | 01:47:22 |
| 27 | Paul Edwards | Walsall Roads Cycling Club | 32 | 01:47:57 |
| 28 | Paul Robinson | Lyme Racing Club | 50 | 01:48:05 |
| 29 | Ian King | Velo Club Long Eaton | 48 | 01:48:45 |
| 30 | Matthew Rowley | Oxonian | 46 | 01:48:46 |
| 31 | Mark Sanders | Mid Devon CC | 55 | 01:48:50 |
| 32 | Michael Garner | Birkehead North End CC | 32 | 01:49:03 |
| 33 | Tim Davies | Icknield RC | 46 | 01:49:21 |
| 34 | Michael Wills | Hinckley CRC | 55 | 01:49:23 |
| 35 | Ross Barton | North Notts Olympic RC | 34 | 01:49:48 |
| 36 | Will Bamber | VC Norwich | 29 | 01:50:00 |
| 37 | Paul Holdsworth | Hounslow & District Whs | 50 | 01:50:22 |
| 38 | Phil Brown | Walsalll RC | 62 | 01:50:37 |
| 39 | Stephen Howgill | Leicestershire RC | 50 | 01:51:34 |
| 40 | Simon Wix | Worcester St Johns CC | 51 | 01:51:49 |
| 41 | John Dowling | Hemel Hempstead CC | 57 | 01:52:06 |
| 42 | David Spencer | Fibrax-Wrexham RC | 41 | 01:52:09 |
| 43 | Randle Shenton | Team Swift | 56 | 01:52:16 |
| 44 | Tony May | TMG Horizon Cycling Team | 56 | 01:52:34 |
| 45 | Mark Donnelly | Birkenhead North End CC | 38 | 01:52:37 |
| 46 | Chris Lea | Buxton CC | 42 | 01:52:38 |
| 47 | Peter Wright | Rugby Racing CC | 49 | 01:52:38 |
| 48 | Andy Horner | Bury Clarion | 50 | 01:53:26 |
| 49 | David Thompson | Scarborough Paragon CC | 46 | 01:53:27 |
| 50 | Dave Bates | South Pennine RC | 66 | 01:53:49 |
| 51 | Peter Leonard | Southport CC | 62 | 01:53:50 |
| 52 | Paul Mapletoft | Kiveton Park CC | 50 | 01:53:56 |
| 53 | Steven Hollwood | Kiveton Park CC | 52 | 01:53:57 |
| 54 | Chris Ledger | www.zepnat.com RT | 52 | 01:54:11 |
| 55 | Tom Cox | Northover VT Rudy Project | 59 | 01:54:19 |
| 56 | Roy Flanagan | Rossendale RC | 57 | 01:54:29 |
| 57 | Peter Lavine | Coalvile Wheelers | 59 | 01:54:39 |
| 58 | Martyn Bowers | Stone Wheelers CC | 43 | 01:54:53 |
| 59 | Antony Stapleton | Chelmer CC | 48 | 01:55:06 |
| 60 | David Evans | Worcester St. Johns CC | 57 | 01:55:16 |
| 61 | Stephen Cooke | Lindsey Roads CC | 51 | 01:56:36 |
| 62 | Roger Wrenn | Manchester Wheelers | 70 | 01:56:56 |
| 63 | Gerry McGarr | Gloucester City CC | 62 | 01:57:15 |
| 64 | Nick Hall | Bury Clarion CC | 52 | 01:57:22 |
| 65 | Neil Allonby | Chronos RT | 44 | 01:58:28 |
| 66 | Stephen I'Anson | Buxton CC | 58 | 01:58:43 |
| 67 | Andrew Halliday | Westerley Cycling Club | 42 | 01:59:28 |
| 68 | Nick Hanson | Seacroft Wheelers | 48 | 02:00:20 |
| 69 | Barrie Whittaker | Lyme Racing Club | 57 | 02:02:38 |
My ride
Average power – 296 watts
Increasing power until 40 miles.
Biggest power (300watts for slowest part of course 28.8mph)
Related