The World Championships in Bergen, Norway were a great spectacle this year. It's still hard to believe that last year, the UCI decided to hold their flagship event in a desert. But, it was good to see a transformation this year with a beautiful backdrop and enthusiastic, well-behaved crowds. It really adds to the spectacle, and let's be honest often, for a long time not very much might happen in a cycle race.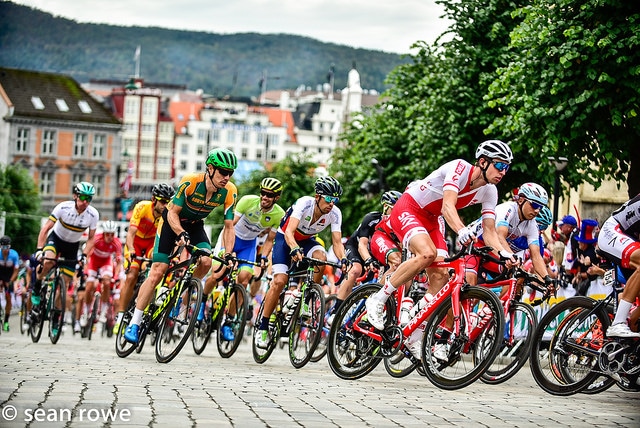 I particularly like the men's time trial course. A flat 40km and then a proper climb at the end. I've always fancied time trial courses like this. But, in the UK we seem to do them the other way – descent at the start and then flat to the finish. But, it was fantastic to see so many spectators on the last climb. And mostly they were very well behaved. The odd one who misbehaved got properly treated by the Norwegian Police.
The Tour de France should invite those policemen over. If every idiot running up Alpe d'Huez in a mankini got similar treatment, the sport would be so much the better.
The women's road race was good, and so was the men's. Even the footage going blank for the last 3km had its own kind of drama. Relying on a fixed camera is like watching the race in person. You wait for ages, excitement building, and then for a few fleeting seconds, the race passes by. It's good up to a point, though I have to say it's not how I would choose to watch every race.
Last 4km via helicopter you probably missed on telly
Soon the world champs will come to Yorkshire (2019) and it is a mouth-watering prospect. I hope the organisers pick up the good points from Norway. It's a tough act to follow, but if anyone can, Yorkshire can.
---
Now for a bit of shameless self-promotion.
Regular readers of the blog may know my main 'job' is writing about economics. In fact, readers with a long memory may remember a few years ago, when rather bizarrely they temporarily saw here a post published on the French current account deficit. (I had got confused between my cycling and economics blogs.)
This year has been lamentable on the cycling front, but I have published a book on economics. In the UK it is called "Cracking Economics"
It's a 'cracking read' full of well – economics, with pictures and diagrams to make it a bit more readable. Just in case, you've always wanted to know about the paradox of thrift and the impact of higher interest rates …