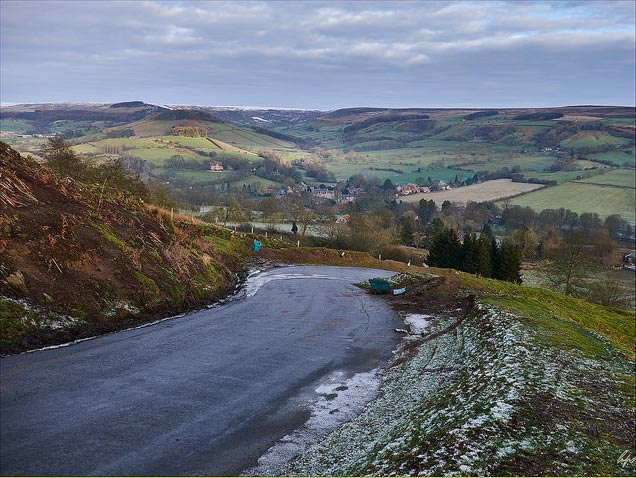 Rosedale Chimney / Chimney Bank is a short and very steep climb from the village of Rosedale Abbey in the North York Moors. The climb is just under one mile long – At its steepest it is 30% – and the average gradient for the climb is 13-14% It is also worth picking your line carefully on the corners as the gradient is much steeper on the inside.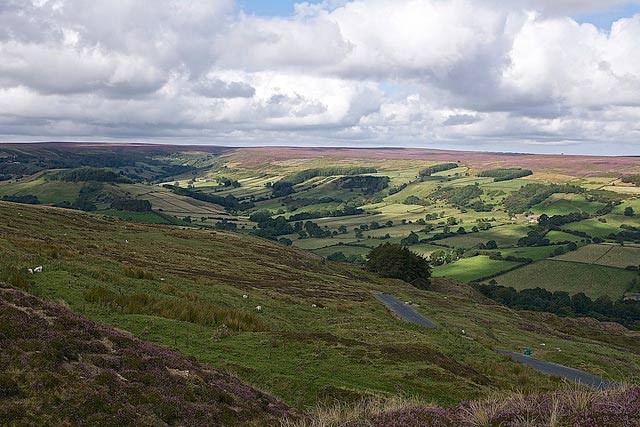 Rosedale Chimney – north to south
Location: Rosedale Abbey, North York Moors
Distance: 0.8 miles
Avg grade 14.0%
Max Grade: 30.0%
Elev Gain: 183m
Cat: 3
Everesting? 49*1.6 miles = 78 miles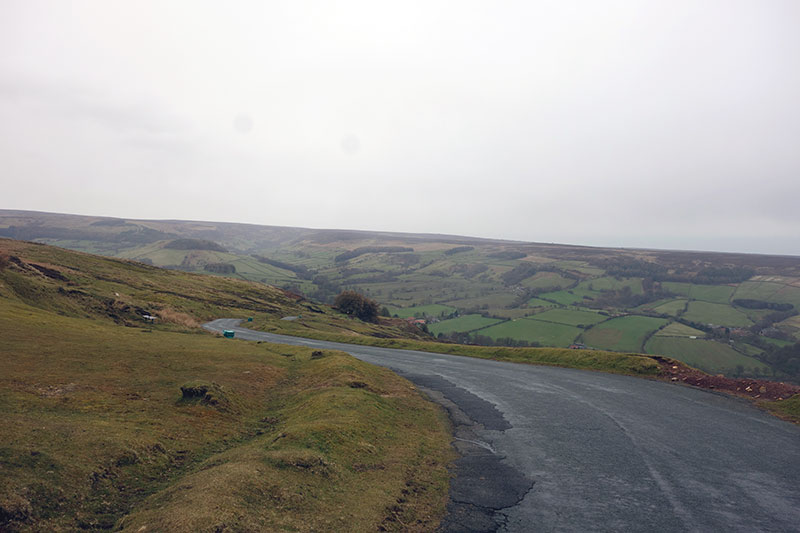 Rosedale Chimney from south to north
The climb north is longer and less steep.
Location: Rosedale Abbey, North York Moors
Distance: 2.2 miles
Avg grade 5%
Max Grade: 20%
Elev Gain: 178m
Cat: 3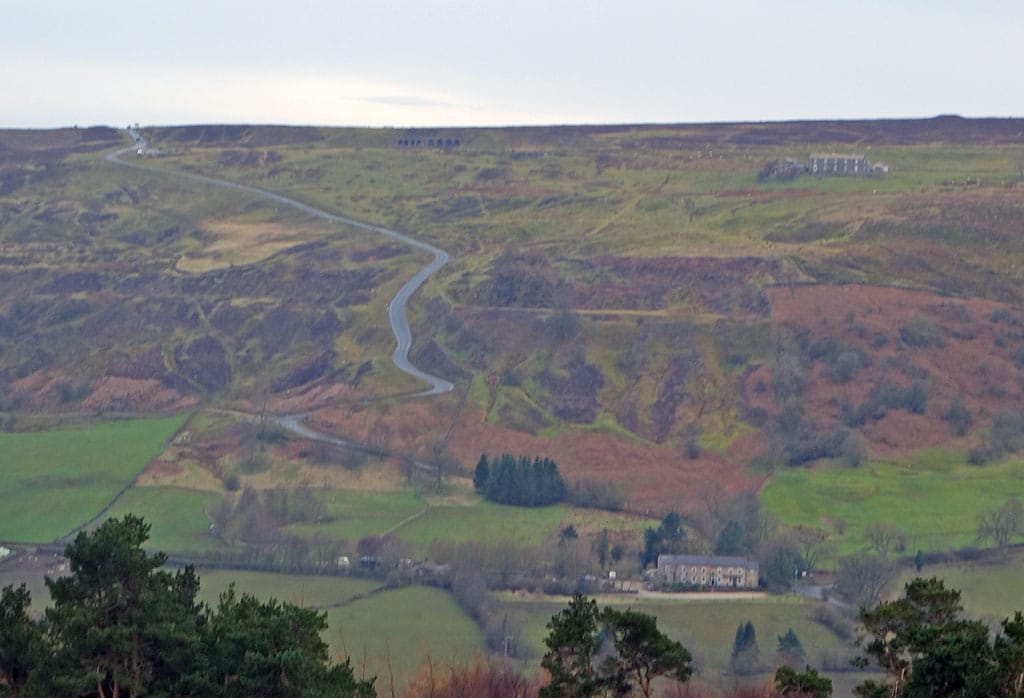 I rode Rosedale Chimney 1 April, 2016 in a day out in the North York Moors – it was really hard because in addition to the gradient there was a strong headwind. I had a 39*28, which was good because I had done a hilly 60 miles in the North York Moors. Because I was already tired, I took it easy on the lower slopes leaving the village meaning that I could make a big effort around the very steep left hander. I avoided the steepest apex and was in the middle of the road for a bit, once you have got round this, there is still quite a tough last stretch, but the worst is over.
It's a great climb, a real challenge and from the other side of the valley, looks suitably intimidating.
I also did the other version of Rosedale Chimney from south to north.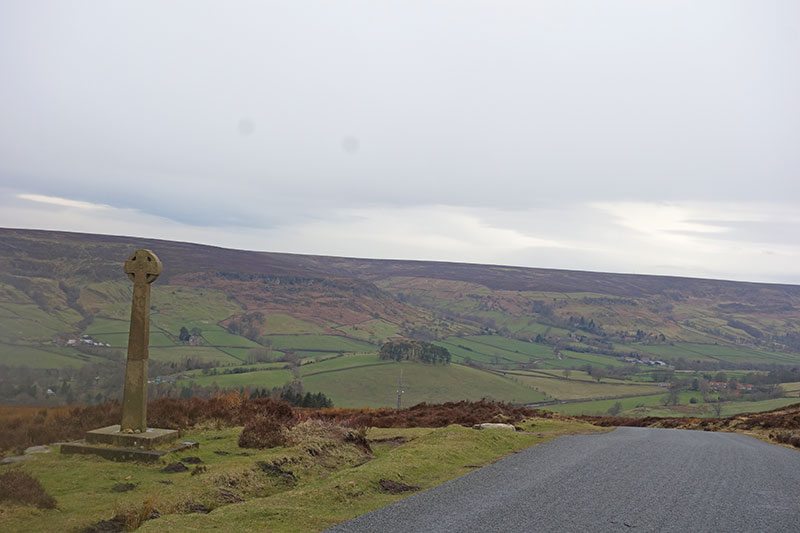 1987 National Hill climb championship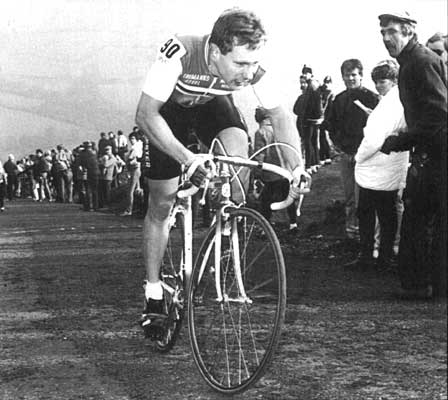 Rosedale Chimney was used as the venue for the national hill climb championship in 1987. Paul Curran (5.22.8) of the Manchester Wheelers edged out a young Chris Boardman (5.23.0) by 0.2 seconds. In the national hill climb event both Curran and Boardman rode 42 x 24 (47.3 inches). Though most leisure riders will be wanting a compact (34*28) at least!
The event on Rosedale Chimney was considered one of the toughest national hill climbs. I'm not sure, but I assume it is on the version from north to south.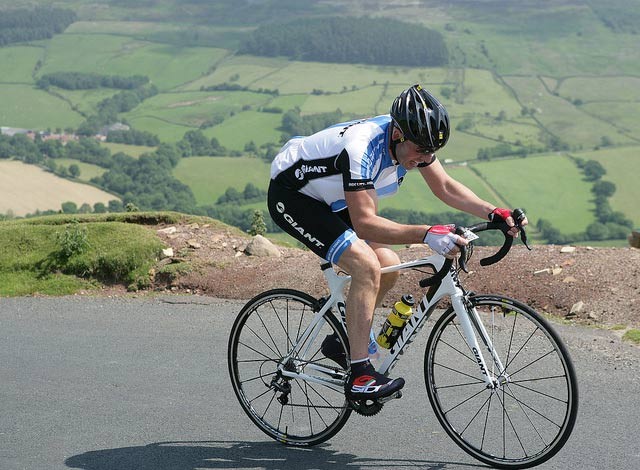 Rosedale Chimney north to south on Veloviewer

Strava – Rosedale Chimney North to South
Related Pages