I've had a few injury niggles this week so haven't been able to do as much cycling in Yorkshire Dales as I hoped. Cycling has mainly involved pottering along to Bolton Abbey, I'm getting a bit restless to do some hill climb intervals – I haven't really done much this year. But, although it's frustrating to take it easy and dns for a race today, there is considerable compensation in watching the Olympics.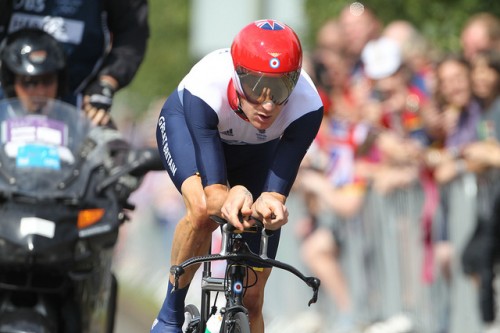 Great Britain has made a great start to the velodrome; in fact to an outsider it can appear winning a gold medal is almost taken for granted, but GB men's sprint team was 15/1 at the start of the games. The last time they won a major championship was in 2012.
Chris Hoy makes a good person to have in velodrome. He is is articulate and passionate, with a certain gravitas – not always present with BBC presenters. Though, last night, he kept looking over his shoulder trying to watch the racing going on behind – rather that answering endless questions on Bradley Wiggins' frame of mind. I must admit I would have rather watched the racing too.
Still in the end, the 4km pursuit final was a real epic contest. Defying the pundits predictions, Australia ran GB very closely. When the third man of GB got slightly detached on the last lap, it was really touch and go. It was an epic moment of the Olympics, for both Wiggins' 5th gold medal, but also the closeness of the contest.
Confidence
It was interesting to hear the real confidence many in the GB squad have in themselves. After losing the worlds in March (by very small margin to Australia), Bradley Wiggins seemed utterly confident in saying "But, we will definitely win the Olympics". If it had been someone else, it may have come across as bravado, but it was said with the real conviction, that they knew more was to come.
In another era, Ed Clancy's 3rd consecutive gold medal would be headline news. But in the Olympic gold rush, post national lottery funding, he can, like Steven Burke, fly under the radar. But, I get the impression the likes of Ed Clancy, Jason Kenny and others are quite happy with their relative low profile.
Peaking for the Olympics
In my own cycling career, I have spent quite a few years trying to peak for national hill climb at the end of October. It is all a bit hit and miss, and surprisingly difficult to do. But, GB do seem to have perfected the art of not just an annual peak, but a peak for a four year Olympic cycle. It helps when you have such clarity of purpose – Olympic medals above all else.
***
I was watching an interview with a British shooter (Steven Scott) who won a bronze medal in the double trap, by beating his own club member. He was so sincerely happy at the experience of getting a bronze medal it was quite humbling. This is the kind of thing I like about the Olympics, it's not just the number of gold medals, but seeing people have a great experience after years of hard work.
***
Yesterday, I was meandering  home on the back road from Bolton Abbey to Ilkley, trying to shake off some tight muscles.  Unexpectedly, I caught a brief glimpse of Lizzie Armitstead – resplendent in her World Champions jersey.
I was cycling in one direction at 20mph, and she was cycling 20mph in the opposite direction. It was just enough to get a short glimpse of the famous white jersey and rainbow stripes. It is the first time I've seen a World Championship jersey in the flesh, and I have to say it gave a real inner thrill. She seemed pretty happy chatting to a fellow cyclist, which was good to see after a difficult few weeks for her.
Lizzie Armitstead comes from Otley, two miles from Menston. Otley CC was my first cycling club. I'm 99.9% certain it was Lizzie Armitstead, otherwise there is someone doing a very good impersonation, plus wearing a proper World Champions jersey.