Results:
Men:
Dan Evans (ASSOS Equipe UK)   3:54.3  (course record)
Adam Kenway (Raleigh GAC)      3:59.5
Kieran Savage (B38-Underpin Racing)      4:03.1
Joseph Clark (Cycling Giant Sheffield)      4:04.9
Leon Wright (Race Hub)    4:05.3
Mike Morris (NFTO Race Club)     4:05.6
Andy Cunningham (All Terrain Cycles)     4:08.1
Zeb Kyffin (GS Metro)      4:09.9
Kieran Wynne-Cattanach (Maxxis 4 RT)   4:10.6
Patrick Clark (B38-Underpin Racing)      4:11.2
Team: B38-Underpin Racing (K. Savage, P. Clark, Andy Nichols)  12:31.7
Women:
Joscelin Lowden (Lewes Wanderers CC)  4:53.4
Mary Wilkinson (Yorkshire Road Club)     4:54.5
Hayley Simmonds (Team WNT Pro Cycling)        4:55.6
Fiona Burnie (GS Metro)    5:03.9
Jessica Evans (Assos Equipe UK)  5:11.6
Rebecca Goodson (Velo Schils Interbike)  5:13.2
Elizabeth Banks (Storey Racing)    5:16.1
Jacintha Hamilton-Love (Dulwich Paragon)          5:20.6
Alice Lethbridge (Drag2Zero)        5:21.4
Hannah Slade (Chippenham & District Whs)       5:23.7
Team: Racing Chance Foundation (Corinne Side, Tamsin Vicary, Heather Bamforth)         18:08.5
Junior Boys:
George Kimber (CS Dynamo)        4:13.9
Thomas Prentice (GS Metro)          4:23.5
Alex Raynard (Matlock CC)          4:26.8
Junior Girls:
Corinne Side (Racing Chance Foundation)            5:19.0
Lily Greenhalgh (Team 22) 5:28.7
Jasmine Gray (VCUK Velochampion)       6:29.0
See: full results here
Hedley on the hill

Length = 1 mile
Av. gradient = 8%
Max. Gradient = 15%
Strava Profile
Preview – written before event

This year's national hill climb is on Hedley on the Hill near Stocksfield in the North East. Promoted by  GS Metro, it promises to be a great event. Despite being held in the far north-east, it has attracted another full field – showing the ongoing popularity of the national hill climb. The hill is in many ways a classic national course. Around one mile, it will take the top riders just shy of four minutes. Like many British hills, it has a varying gradient, and a few twists and turns. Averaging 8%, it's not the steepest climb but does have a few short 15% sections. The final section to the line flattens out and with a tailwind could be quite fast. Not a climb for a fixed wheel, it requires quite a few gear changes and careful pacing to get the most out of the hill.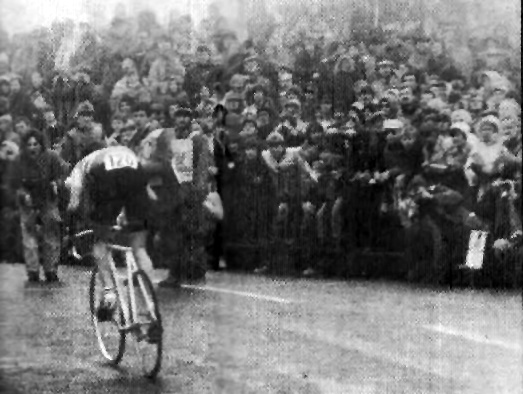 For those who follow hill climbs closely, the length and profile of the hill is all important for influencing who will win. At four minutes it is in that corridor of uncertainty between the explosive power sprinters and the mountain goats with the top watt/kg. If it was a short two-minute climb, Adam Kenway, the defending champion might start as the out and out favourite. But, that extra bit of length may shift the favourite tag to Dan Evans who won in 2014 on the very similar climb of Pea Royd Lane. But, Kenway seems to be coming into his best form at just the right time. However, the same could be said for quite a few other riders too. Peaking for the last week in October is one of the secrets of the hill climb season – something I didn't always manage to perfect. If Adam Kenway does retain the title, he would be first man to successfully defend  the title since Dan Fleeman in 2009/10. It's a hard champion to defend as many former winners will testify!
I haven't followed the results as closely as when I was racing, but there are several people in with a shout of a podium. It is hard to call the podium as the top riders have never raced altogether on similar length hills. The women's event is also wide open with no defending champion (Lou Bates) or Maryka Sennema (three times champion). The scratch rider is Joscelin Lowden – #189. I think the organiser Ben Lane has probably followed form and prospects as much as anyone. It seems like the favourites have been put in reverse order on the start sheet.
The thing about the nationals is that a new name can always appear from relative obscurity. I will be interested to see how local rider Richard Gildea (Didcot Phoenix gets on). I think he is in good form.
***
Personal note
On a personal note this will be the first national hill climb I have missed since 2004. – Too old, too knackered but mostly too injured. I've had a few good years since 2005, and have found I really quite miss the hill climb season. I don't want to hang up the wheels just yet – so all being well I will be racing in the future. Hearing about possible future national events on the Tumble and Horseshoe Pass is also music to my ears.
I've heard 2018 will be on Shelsey Walsh (Worcestershire) (a two and half minute climb on a classic motorsport hill climb course.
If the event was closer I might go along to spectate; it would be interesting to watch event rather than be the one suffering.
Course MH11 Description
1.1 miles Hill Climb Start near the foot of the hill on minor road leading to Hedley on the Hill opposite electric pylon approximately 100 metres from the T-junction of the minor New Ridley to Painshawfield road. Proceed up the hill for 1.1 miles to finish at crest of hill approximately 85 metres before Hedley on the Hill village boundary signs.
To Start
1. Event HQ, Stocksfield Cricket Club, NE43 7NN – Turn Left onto A695 and continue uphill to first major turn right onto Cadehill Road.
Startsheet for national hill climb 2017

1 10:31 Craig Berry GS Metro Male Vet
2 10:32 Christopher Beaty Allen Valley Velo Male Senior
3 10:33 Richard Burt Solihull CC Male Vet
4 10:34 Michael Stanley Port Sunlight Wheelers Male Vet
5 10:35 Craig Deacon South Shields Velo CC Male Senior
6 10:36 Rapid Rich Stoodley 3 RT Male Vet
7 10:37 Simon Froberg Dinnington Racing Club Male Vet
8 10:38 Graeme Kirton South Shields Velo CC Male Senior
9 10:39 John Hatton Lancaster CC Male Vet
10 10:40 Ted Cross University Of Bristol CC (UOBCC) Male Espoir
11 10:41 Mark Sanders Mid Devon CC Male Vet
12 10:42 Graeme Wardale South Shields Velo CC Male Vet
13 10:43 Andrew Bolton Otley CC Male Vet
14 10:44 Joe Agnew Edinburgh Road Club Male Espoir
15 10:45 Dominic Munnelly Newcastle Cheviot CC Male Vet
16 10:46 Francis Chesters Matlock CC Male Senior
17 10:47 Joe Stringer Muckle Cycle Club Male Senior
18 10:48 David Wells CC Ashwell Male Vet
19 10:49 John Hind Bolsover And District CC Male Vet
20 10:50 Ben Keeley Team Velovelocity Male Senior
21 10:51 Tom Andrews University Of Sheffield CC Male Senior
22 10:52 Lewis McEvoy Sunderland Clarion Male Senior
23 10:53 Samuel Davies Muckle Cycle Club Male Senior
24 10:54 Jack Corah Beeston CC Male Espoir
25 10:55 Matthew Atkinson Velo Club Cumbria Male Senior
26 10:56 Nicholas Martin EMC Cycling Male Senior
27 10:57 Cameron Turner Malton Whs Male Vet
28 10:58 Paul Armstrong Sheffrec CC Male Senior
29 10:59 Julian MacBride Blaydon CC Male Senior
30 11:00 James King OVB Male Senior
31 11:01 Clive Upton Hambleton RC Male Senior
32 11:02 Marcus Cram Castle Tri Male Senior
33 11:03 David Scott Rhino Velo Race Team Male Senior
34 11:04 John Sample Durham City Velo RT Male Senior
35 11:05 Ian Taylor Blumilk.Com Male Vet
36 11:06 Thomas Robb Bedfordshire Road RT Male Vet
37 11:07 Aaron Denver BodyTorq Racing Male Espoir
38 11:08 James Ward Cambridge CC Male Vet
39 11:09 Nicholas Després Guernsey Velo Club Male Vet
40 11:10 Alex Reid Kingston Wheelers CC Male Senior
41 11:11 Paul Hague Gosforth RC Male Vet
42 11:12 James Molony Adalta CC Male Espoir
43 11:13 Paul Nelson Ribble Valley C&RC Male Senior
44 11:14 Tim Glenie Belper BC Male Vet
45 11:15 Joe Hawksworth Bristol South CC Male Senior
46 11:16 Jack Phillips Salt And Sham Cycle Club Male Senior
47 11:17 Dan Robinson Manchester Wheelers Male Senior
48 11:18 David Pearson Oxford University CC Male Espoir
49 11:19 Andrew Newey Ribble Valley C&RC Male Senior
50 11:20 Daniel Watts Royal Air Force CA Male Senior
51 11:21 Andrew Pearson Wakefield Tri Club Male Vet
52 11:22 Cameron Biddle Rivet Racing Male Espoir
53 11:23 Dion Jones Rhyl CC Male Senior
54 11:24 Josh Reid Gosforth RC Male Espoir
55 11:25 Nick Badcock Allen Valley Velo Male Senior
56 11:26 Michael Harcourt Wheelbase Altura MGD Male Senior
57 11:27 Ross Gray Allen Valley Velo Male Senior
58 11:28 Alistair Merry Dundee Thistle Male Espoir
59 11:29 Lee Ager Blaydon CC Male Senior
60 11:30 Tom Fricker Farnham RC Male Senior
61 11:31 Tim Jude Andover Wheelers Male Senior
62 11:32 Dominic Cordner Bike Chain Ricci Male Senior
63 11:33 Karl Juan Denton Newcastle Cheviot CC Male Vet
64 11:34 Ryan Kenworthy LeisureLakesBikes.Com Male Espoir
65 11:35 Thomas Potter All Terrain Cycles Male Espoir
66 11:36 Oliver Walker-Hayes University Of Bristol CC Male Espoir
67 11:37 Zak Walker Honister 92 Male Senior
68 11:38 Lee Carter Ribble Valley C&RC Male Senior
69 11:39 Jonathan Groves Rapha CC Male Vet
70 11:40 Alex Avery Velo-One Cycling Team Male Senior
71 11:41 Alex Byrne-Smith LFGSS CC Male Senior
72 11:42 Jacob Vezey Harrogate Nova CC Male Senior
73 11:43 Eoin Gormley Blaydon CC Male Senior
74 11:44 Micky Mallen GS Metro Male Vet
75 11:45 Richard Lilleker Cleveland Wheelers CC Male Senior
76 11:46 Tony Fawcett Newcastle Cheviot CC Male Senior
77 11:47 Tom Simmonds Velo Club Walcot Male Senior
78 11:48 Hugh Brashaw University Of Bristol CC Male Espoir
79 11:49 David Murphy Liverpool Mercury Dolan CC Male Espoir
80 11:50 Shaun Tyson Adept Precision RT Male Vet
81 11:51 Laurie Lambeth Beacon Wheelers Male Senior
82 11:52 Michael Openshaw Cestria C.C. Male Vet
83 11:53 Andrew Hale GJS Cruise Racing Male Senior
84 11:54 Callum Dixon NFTO Race Club Male Senior
85 11:55 Sion Harlow VELOFLOW CC Male Espoir
86 11:56 Mj Todd Derwentside CC Male Senior
87 11:57 Ross Fawcett Pedal Power Cycles Ipswich Male Senior
88 11:58 Dave Hopper Newcastle Cheviot CC Male Vet
89 11:59 Matthew Brown University Of Sheffield CC Male Senior
90 12:00 Toby Williams Liverpool Phoenix CC Male Senior
91 12:01 Tavis Walker DRK Racing Male Senior
92 12:02 Hugh Smith Woolwich CC Male Senior
93 12:03 Tom Haines East London Velo Male Vet
94 12:04 Reuben Bakker-Dyos BikeRadar Male Senior
95 12:05 David Ross LFGSS CC Male Senior
96 12:06 Will Powell University Of Sheffield CC Male Espoir
97 12:07 John Hunt Beacon Roads CC Male Senior
98 12:08 Chris Edmondson Velotik Racing Team Male Vet
99 12:09 John Bowman Muckle Cycle Club Male Senior
100 12:10 Colin Sturgess Metaltek Kuota R T Male Vet
101 12:11 Thomas Heighton Stockton Wheelers CC Male Juvenile
102 12:12 Morgan LLOYD Towy Riders Male Juvenile
103 12:13 Euan Backus Zappi Racing Team Male Juvenile
104 12:14 Ewan Mackie Matlock CC Male Juvenile
105 12:15 Josh Charlton Hetton Hawks CC Male Juvenile
106 12:16 Francis Woodcock Bury Clarion CC Male Juvenile
107 12:17 Kieran Smith Bolsover And District CC Male Juvenile
108 12:18 Jack Rutland Beacon Wheelers Male Juvenile
109 12:19 Joe Baker Zappi Racing Team Male Juvenile
110 12:20 Archie Irving Beacon Wheelers Male Juvenile
111 12:21 Tommy Dawson Yorkshire Road Club Male Juvenile
112 12:22 Harry Butterworth Scarborough Paragon CC Male Juvenile
113 12:23 Tristan Davies One And All Cycling Male Juvenile
114 12:24 Charlie Knowler West Suffolk Whs Male Juvenile
115 12:25 Lewis Dolan Cleveland Wheelers CC Male Juvenile
116 12:26 Nathan Woodhouse Leighton Buzzard Road CC Male Juvenile
117 12:27 Daniel Dixon Gosforth RC Male Juvenile
118 12:28 Cai Edwards Energy CC /Clwb Beicio Egni Male Junior
119 12:29 Will Beech Team Jewson – MI Racing Male Junior
120 12:30 Alexander Dent Nevis Cycles Racing Team Male Junior
121 12:31 Deio Garton Jones Energy CC /Clwb Beicio Egni Male Junior
122 12:32 James Storey SportCity Velo Male Junior
123 12:33 Joshua Keers Mossley Cycle Racing Team Male Junior
124 12:34 Chris Mann Marsh Tracks Race Team Male Junior
125 12:35 Thomas Prentice GS Metro Male Junior
126 12:36 Halley Woods SportCity Velo Male Junior
127 12:37 Elliot Reed Identity Racing Male Junior
128 12:38 Luke Hind Team Jewson – MI Racing Male Junior
129 12:39 Dan Charlton Hetton Hawks CC Male Junior
130 12:40 Dylan Hughes Spokes BPC Racing Male Junior
131 12:41 Alex Raynard Matlock CC Male Junior
132 12:42 Bevan Jones Manilla Cycling Male Junior
133 12:43 James Noonan Hoppers Rollers Male Junior
134 12:44 James Corfield Gosforth RC Male Junior
135 12:45 Ash Coning Identity Racing Male Junior
136 12:46 Adam Jarps Manilla Cycling Male Junior
137 12:47 George Kimber CS Dynamo Male Junior
138 12:48 OLLIE MORGAN Worcester St. Johns CC Male Junior
139 12:49 Huw Owen Energy CC /Clwb Beicio Egni Male Junior
140 12:50 Rhys Evans Mid Devon CC Male Junior
141 12:51 Cavan Walker Prologue Race Team Male Junior
142 12:52 Roisin Lally Derwentside CC Female Juvenile
143 12:53 Hannah Bayes Liv AWOL Female Junior
144 12:54 Lily Greenhalgh Team 22 Female Junior
145 12:55 Alana Prior EDCO Continental Female Junior
146 12:56 Miriam Jessett EDCO Continental Female Junior
147 12:57 Jasmine Gray VCUK Velochampion Female Junior
148 12:58 Corinne Side The Racing Chance Female Junior
149 12:59 Angela McGurk Blaydon CC Female Senior
150 13:00 Sharon Clifford SheHair Racing Team Female Vet
151 13:01 Gemma Hutchins Blaydon CC Female Senior
152 13:02 Alice Thomson DRK Racing Female Senior
153 13:03 Karen Taylor Vertex Biemme RT Female Vet
154 13:04 Anabell Orenz North Cotswold CC Female Senior
155 13:05 Kristin Stolpe Lovelo Cinelli RT Female Senior
156 13:06 Hannah Slade Chippenham & District Female Senior
157 13:07 Hannah Farran EDCO Continental Female Senior
158 13:08 Gemma Herbertson Salisbury Road Female Vet
159 13:09 Jen McMahon Muckle Cycle Club Female Senior
160 13:10 Joanne Rea Blaydon CC Female Senior
161 13:11 Lisa Baker Muckle Cycle Club Female Vet
162 13:12 Charlotte Gorman Team Lusso Female Senior
163 13:13 Michelle Highfield Berwick Wheelers CC Female Vet
164 13:14 Jennifer Andrews CC Ashwell Female Senior
165 13:15 Victoria Curry Berwick Wheelers CC Female Vet
166 13:16 Alice Earle VeloVitesse/ALLCAP/ Female Senior
167 13:17 Susan Paterson Honister 92 Female Vet
168 13:18 Heather Bamforth The Racing Chance Female Senior
169 13:19 Rachel Crowe Berwick Wheelers CC Female Senior
170 13:20 Gemma Frost Muckle Cycle Club Female Senior
171 13:21 Emilie Verroken Maxx R. T. Female Senior
172 13:22 Jo Holden Macclesfield Wheelers Female Vet
173 13:23 Gemma Hobson Sussex Nomads CC Female Senior
174 13:24 Kate Lucas Norwich A B C Female Vet
175 13:25 Rebecca Johnson XRT Elmy Cycles Female Senior
176 13:26 Helen Aldred Liverpool Phoenix CC Female Senior
177 13:27 Tamsin Vicary The Racing Chance Female Senior
178 13:28 Jacintha Hamilton-Love Dulwich Female Senior
179 13:29 Henrietta Colborne Swabo Ladies Female Espoir
180 13:30 Elizabeth Banks Storey Racing Female Senior
181 13:31 Mary Wilkinson Yorkshire Road Club Female Senior
182 13:32 Rebecca Goodson Velo Schils Interbike Female Senior
183 13:33 Wiebke Rietz 1st Chard Wheelers Female Vet
184 13:34 Joanne Jago Performance Cycles CC Female Senior
185 13:35 Jessica Evans ASSOS Equipe UK Female Senior
186 13:36 Alice Lethbridge DRAG2ZERO Female Senior
187 13:37 Hayley Simmonds Team WNT Pro Cycling Female Senior
188 13:38 Fiona Burnie GS Metro Female Senior
189 13:39 Joscelin Lowden Lewes Wanderers CC Female Senior
190 13:40 Daniel Nieto Wigmore CC Male Espoir
191 13:41 Nick Martin East Grinstead CC Male Espoir
192 13:42 Philip Jones Bella In Sella Male Senior
193 13:43 Chris Sleath MTS Cycle Sport Male Senior
194 13:44 Jon Wild Veloviewer Male Vet
195 13:45 David Griffiths Pro Vision Cycle Clothing Male Senior
196 13:46 Joshua Aiken Pedal Power Cycles Ipswich Male Senior
197 13:47 Lewis Timmins Muckle Cycle Club Male Senior
198 13:48 Jonathan Bridge Zappi Racing Team Male Espoir
199 13:49 Nick Spencer Blumilk.Com Male Senior
200 13:50 Colin Atkinson Muckle Cycle Club Male Vet
201 13:51 Angus Fisk Oxford University CC Male Senior
202 13:52 Robert Williams Bike4health Male Senior
203 13:53 Niall Paterson Velo Club Cumbria Male Vet
204 13:54 Rick Bailey Team B38/Underpin Racing Male Senior
205 13:55 Chris Myhill Peak Road Club Male Vet
206 13:56 Freddie Jagger York Cycleworks Male Espoir
207 13:57 Ben Norbury Congleton CC Male Senior
208 13:58 Jonathan Bayley Gosforth RC Male Senior
209 13:59 Chris Newberry Redhill CC Male Senior
210 14:00 Graham Kemp Team Bottrill / HSS Hire Male Senior
211 14:01 Hamish Mcdougall Leicester Forest CC Male Senior
212 14:02 James Hill RST Racing Team Male Espoir
213 14:03 Jude Taylor Team B38/Underpin Racing Male Senior
214 14:04 Jacob Pilkington Velo Club Montpellier Male Senior
215 14:05 Carl Donaldson GS Metro Male Senior
216 14:06 Andrew Feather Bike Chain Ricci Male Senior
217 14:07 Andrew Kirby University Of Bristol CC Male Senior
218 14:08 Thomas Hanlon Harry Middleton CC Male Senior
219 14:09 Oliver Hayward Rhino Velo Race Team Male Espoir
220 14:10 Richard Marsden Storm Velo Male Senior
221 14:11 Josh Coyne Okehampton CC Male Espoir
222 14:12 Eugene Cross Team KTM Male Espoir
223 14:13 David Huck Barrow Central Wheelers Male Senior
224 14:14 Mike Morris NFTO Race Club Male Senior
225 14:15 Matthew Smith Muckle Cycle Club Male Senior
226 14:16 Kieran Wynne-Cattanach Maxxis 4 Racing Team Male Espoir
227 14:17 Calum Brown Team B38/Underpin Racing Male Senior
228 14:18 Joe Norledge Bristol South CC Male Senior
229 14:19 Patrick Clark Team B38/Underpin Racing Male Espoir
230 14:20 Tim Wilcock GS Metro Male Espoir
231 14:21 Leon Wright Race Hub Male Senior
232 14:22 Andy Nichols Team B38/Underpin Racing Male Senior
233 14:23 Zeb Kyffin GS Metro Male Espoir
234 14:24 Andy Cunningham All Terrain Cycles Male Senior
235 14:25 James Hayward Woolwich CC Male Senior
236 14:26 Richard Gildea Didcot Phoenix CC Male Senior
237 14:27 Kieran Savage Team B38/Underpin Racing Male Espoir
238 14:28 Joseph Clark CYCLING SHEFFIELD GIANT Male Senior
239 14:29 Dan Evans ASSOS Equipe UK Male Senior
240 14:30 Adam Kenway Team Raleigh GAC Male Senior