Ffordd Penllech can lay claim to be the steepest hill in the UK. If you measure the road at its steepest apex, it once laid a claim to be the steepest in the world and for a while held the record.  However, in 2019, Guinness World Records measured the hill gradient from the centre of the road, so it lost its claim to be steepest in the world. That title is now held by Baldwin Street, New Zealand – which has a maximum gradient of 35% (at the centre of the road)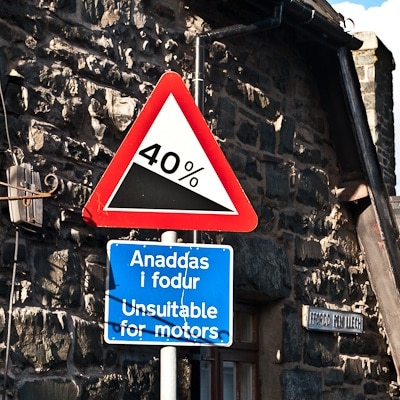 Ffordd Penlech is still very steep, especially around the hairpin, there is then no let up as the rest of the climb remains above 20%.
Because of the steepness of the climb the lower section of the road is a one-way descent only. For a cyclist, they would have to ignore the regulations to climb up.
In August 2019, a hill climb event was held on a closed road to traffic. The event was won by hill climb specialist Callum Brown who powered up the climb in a time of 51 seconds or 14.6 mph.
Details of the climb
Location: Ffordd Penllech, Harlech, Gwynedd, west Wales.
Distance: 0.20 miles
Average gradient: 16%
Maximum gradient: 36.6% – often rounded up to 40% (on the apex). The gradient sign used to be 1:​2

 

1⁄2. Which is very rare gradient sign
Height gain 176 ft / 54 m
Everesting? –

8848

/54m = 163 ascents. total distance = 65 miles
KOM: 0.51 – 14.6 mph
QOM: 1.45 –
Veloviewer

Strava
---
---
Related
Purchase 100 Climbs
100 Greatest Cycling Climbs at Amazon.co.uk
100 Greatest Cycling Climbs at Waterstones